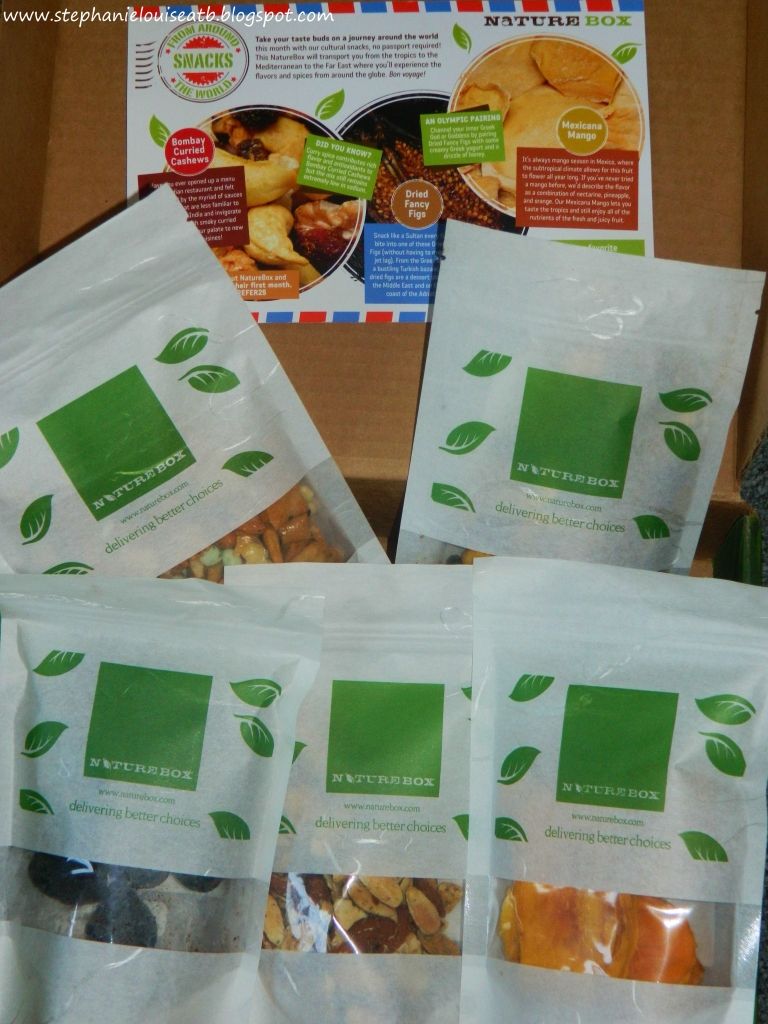 So, I have another foodie giveaway. Yes, I know you're excited. Before you enter though, please read the basics of this company to see how seriously awesome this subscription is with my easy main points!
Quick Glance Facts about NatureBox:
- $19.95 a month
- For every NatureBox purchased, they donate a meal to feed hungry children in America!
- Each box contains 4-6 samples
- Samples are quite large, I received 5 different kinds with 4 servings each
- Each bag is resealable
- They ship to the 48 continental states INCLUDING FPO/APO & PO Boxes. Big deal for me as we reside on military bases.
-
Nothing fake!
No high fructose corn syrup, partially hydrogenated oils, trans fats, artificial flavors/colors/sweeteners. Food as food should be.
I also want to not they have A LOT of great ideas coming up to customize boxes including Gluten-Free, Nut-Free, Vegan, Low-Sugar, & you will be able to adjust the size of your box for your family's needs! That's really cool, I've yet to see something like that!

So now let's look at what came in my August box!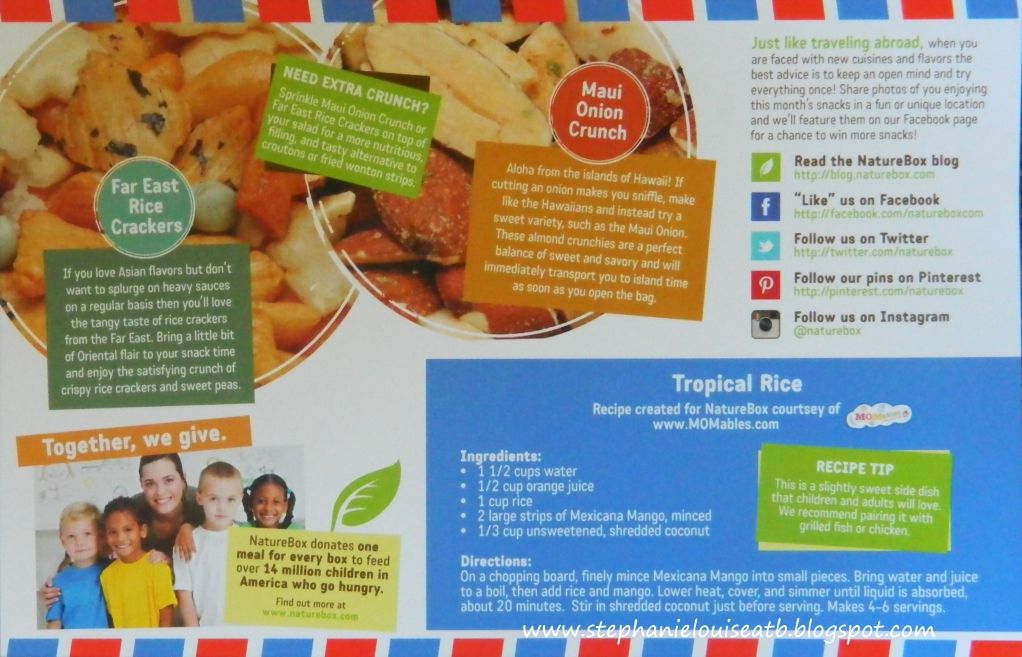 I'm loving this info card, so much more fun than just a list. Its gives you information about each product, some tips, lists their social media information in an easy to find spot, & even includes a recipe. Score.

Left to right are each of the snacks out of the package. I did just tiny bits of each so you can see them up close & personal!
Left to right we have: Maui Onion Crunch, Dried Fancy Figs, Far East Rice Crackers, Mexicana Mango, & Bombay Curried Cashews. Check out the size of those mango slices, yum!
Maui Onion Crunch: My husband isn't a bit onion fan but I liked them because they are sweeter. Love almonds so I'll pretty much eat them coated in anything. Classy right?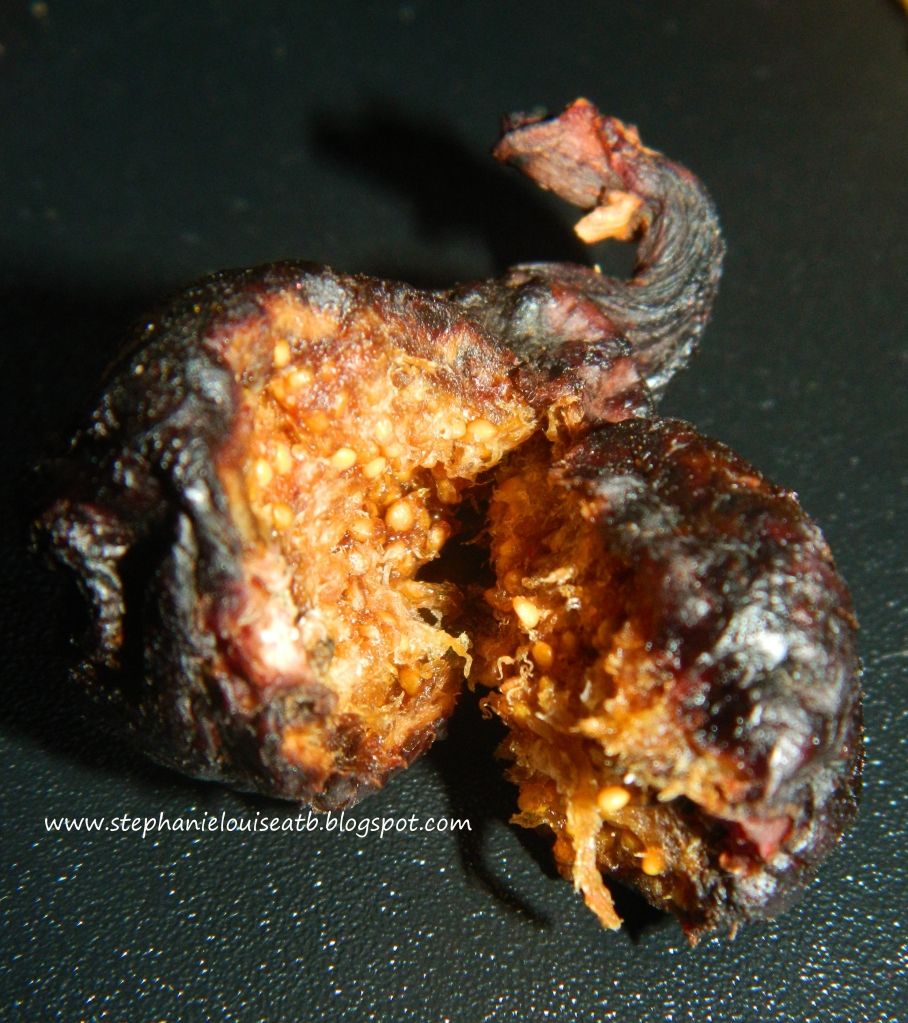 Dried Fancy Figs: I was shocked when my hubby tried these & really like them. They may not look super pretty, but figs & dates are some of my favorites. Sweet, natural, & personally I think they're fun to eat!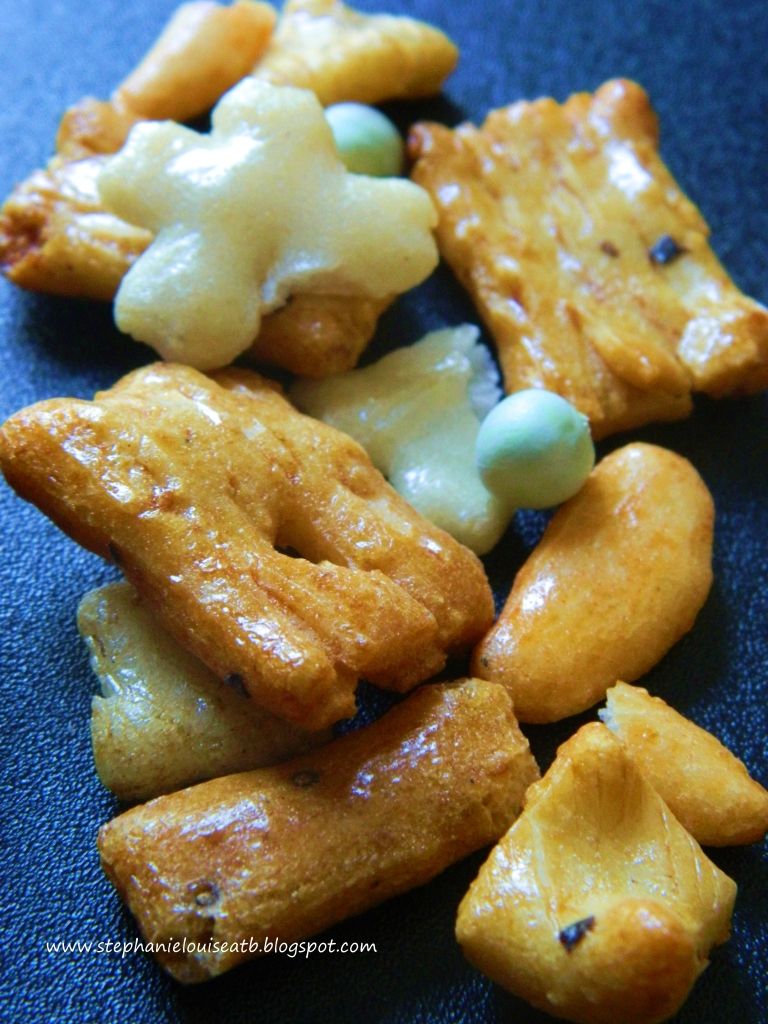 Far East Rice Crackers: Hubby doesn't like these of any variety but I grew up eating mixes like this almost as often as potato chips. Crispy rice crackers & sweet peas with some savory flavors.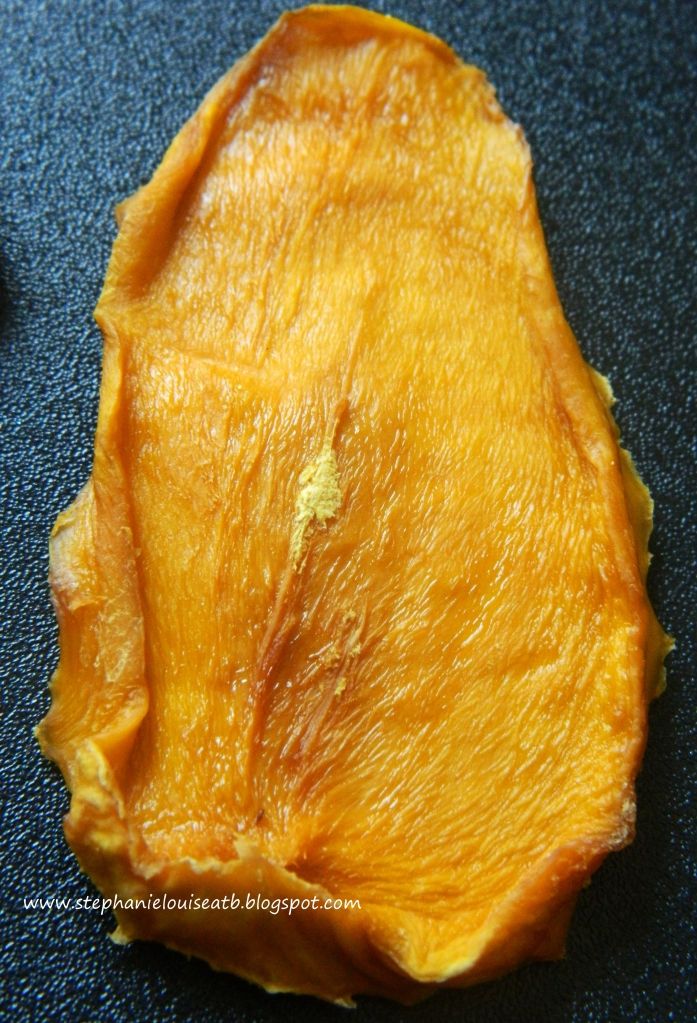 Mexicana Mango: Definitely our favorite in the NatureBox! We love mangoes in pretty much everything, from desserts to sauces to marinades. We also just sit there eating them by themselves. These don't have seasoning on them & they aren't as dried as the kind with preservatives in them. Super sweet & perfect!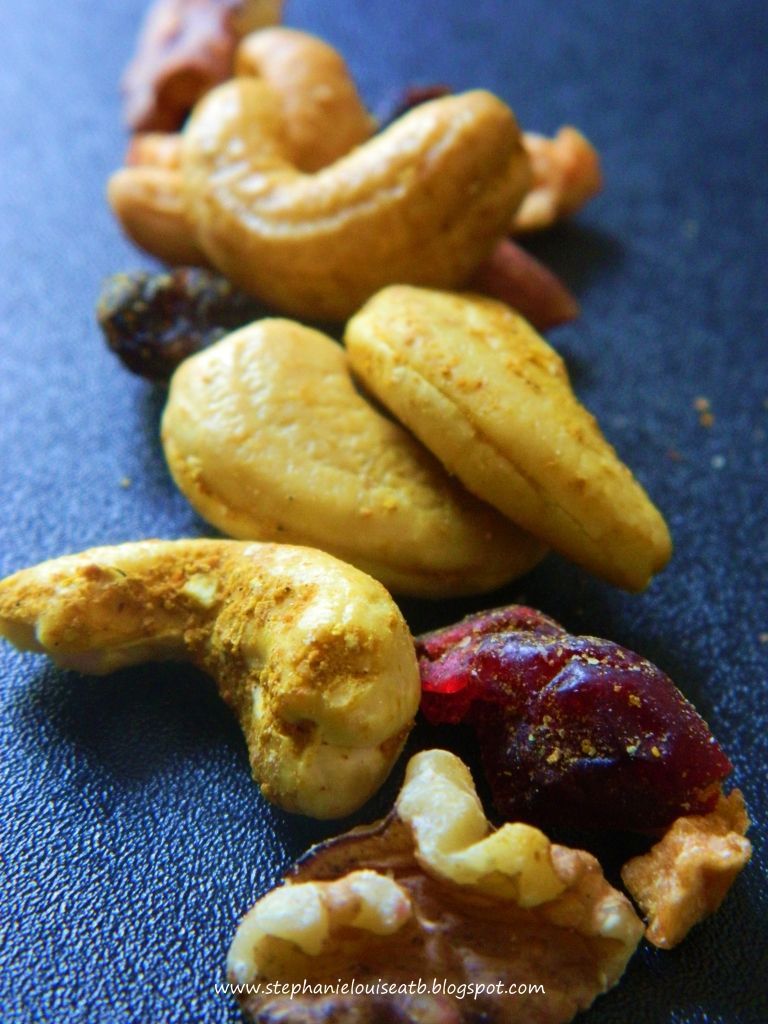 Bombay Curried Cashews: Hubby doesn't like curry but I love it! My mom's favorite is curry so it made me wish she lived closer to share them with her! This also had some cranberries, raisins, walnuts, almonds, evaporated apple pieces, sunflower seeds, & pumpkin seeds. Such a great blend!!!
Overall:
They don't skimp on the quality ingredients which is something I always worry about with a mixed bag type of deal. Not here. This gave hubby & I a chance to try some great snacks together. He grew up eating your standard home foods (mashed potatoes, cheeseburgers, spaghetti) & while I had those things as I well, I grew up eating really out of the box foods (traditional Thai, Persian, & Greek are some of my favorites!) so this was really fun as a couple. I feel like it pushed him to try something new & now I'll gladly buy figs...which I never expected him to like! We have a marriage were he explains to me to dangers as I dance on fire. Food is no different.

I have a 25% off code for your very first box & that code is MANGO. For $19.95, I think this box is a steal honestly. I mean, look at the sizes & quality of the ingredients. These are snacks I'd pick up at Whole Foods for about the same price or more. Knowing Whole Foods, probably more. Plus, each bag has a sneak peek window & a resealable top. Love!
Overall, I'd categorize this as a top-notch subscription box not just for health conscious folks but also for foodies in general. The flavors are dead on, the food is fresh, & the originality is apparent. Pretty obsessed. As far as causes go, helping to feed a hungry child for every box that gets sent out puts this a step ahead of the others. This is also something I would gifts to friends/family because of its reasonable price tag, varied ingredients, & the fact that I don't have to ship it myself. Win.
Please enter using the Rafflecopter widget below! If you don't see it, give it a moment to load, refresh your page, or contact me directly & I will try to help! Sorry this is US only & please refer to my
disclosure policy
which has a special section just for giveaways!
I also need to point out you will be getting NEXT MONTHS box so it will be different!
Good luck everyone!!!
a Rafflecopter giveaway
*This NatureBox & the winner's prize have been provided by the company. All opinions are 100% honest & my own.