Hey guys! It has been a LONG time since I had a box from Influenster. I had qualified for quite a few but then they weren't getting shipped to me. Now that it is all fixed (I hope!) I can show you my newest Vox Box. They completely redid their whole site & I'm still getting a feel for it. I definitely hope it will be more user friendly but I won't really have any final thoughts until the end of the campaign!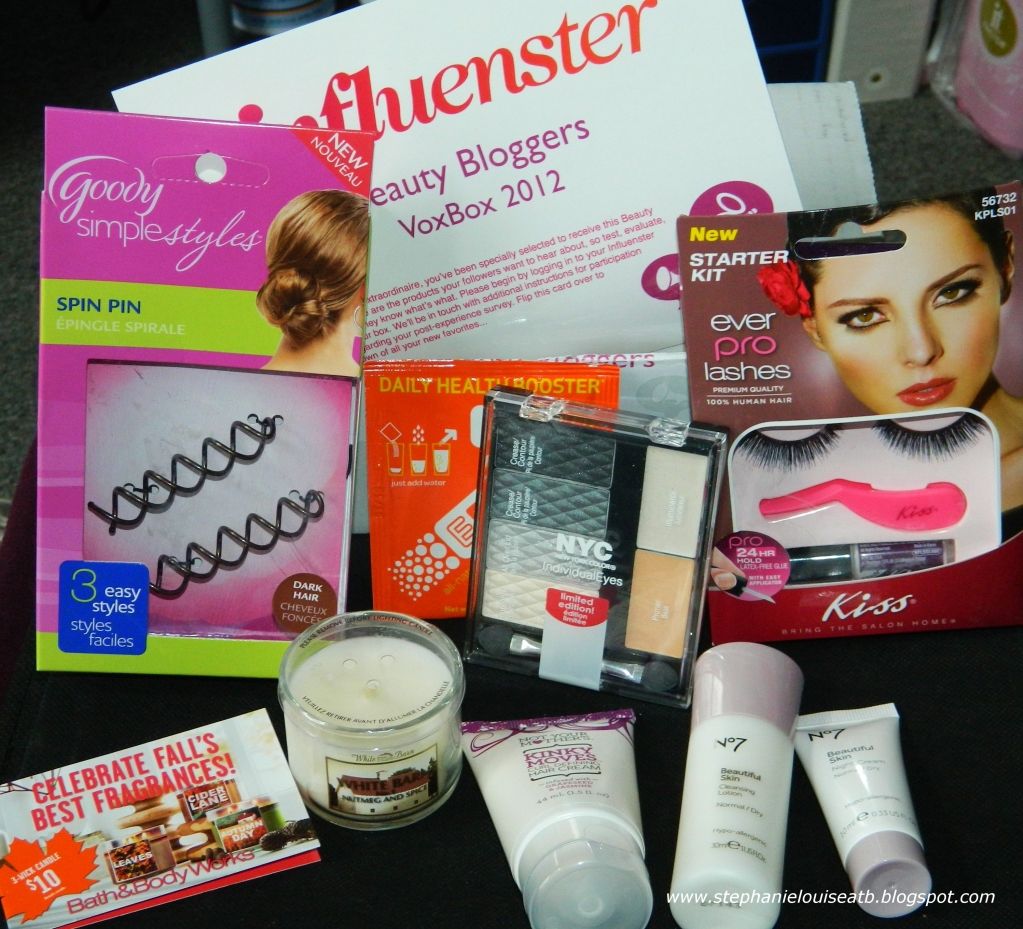 Obviously, I wanted this box pretty bad. The Beauty Blogger Vox Box? Gee...could that be any more up my alley? Okay maybe it could be a "Sushing Loving Beauty Blogging Dog Obsessed Military Wife Glitter Addicted" Vox Box...think they'll take my tip?
This is just a brief overview + video with my first impressions. I won't write out too many descriptions here because it is all in the video. This is the best Vox Box I've ever gotten so I'm hoping the remodel did them a lot of good! I know I am impressed so far!
Inside the Beauty Bloggers VoxBox 2012:
-NYC New York Color Individual Eyes Custom Compact ($4.99) in Dark Shadows
- Kiss Ever Pro Lashes starter Kit ($5.99) & I believe these are 05 lashes
- Bath & Body Works Mini Candle ($3.50) in the scent White Barn Nutmeg & Spice
- EBOOST Daily Health Booster ($28 for a box of 20 powders)
- Goody Simple Spin Pins ($7.29) for Dark Hair
- Not Your Mother's Kinky Moves Curl Defining Hair Cream ($6.00 for a full size)
Bonus: Some people received bonus items & I happened to get the Boots No. 7 Beautiful Skin Cleansing Lotion for Normal/Dry Skin & Night Cream for Normal/Dry skin. I have been meaning to try some more Boots No. 7 products so they read my mind!
Look out for reviews &/or demos of these products in the future! To check out Influenster, just go to
http://www.Influenster.com/
This isn't an affiliate link or anything, just placed for convenience. These products are provided & shipped free of charge to members. You do need to do some surveys/reviews so don't consider them freebies! I am very excited to see what the new Influenster has in store!
What do you think of the items I received? Anything you are most excited to see more about? Are you a member of Influenster?